Floating Contact Form Portlet
Back Executive Vice President Legal and Governance - Chief Legal Officer - Dr. Marc Pfeffer
Dr. Marc Pfeffer has been a member of the Kuehne+Nagel Management Board since January 2023, responsible for Legal and Governance.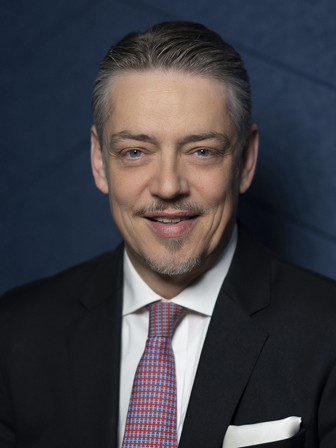 Dr. Marc Pfeffer – Chief Legal Officer
Executive Vice President Legal and Governance
Management Board
German and Swiss, 1971
Dr. Marc Pfeffer (born 1971, German and Swiss citizen) has been a member of the Management Board, responsible for Legal and Governance at Kuehne+Nagel International AG since January 2023.
Marc Pfeffer joined Kuehne+Nagel as Group General Counsel in 2014. He restructured the legal department and introduced competence centers and efficient cost structures. Under his leadership, the Compliance department was reorganised in the Regions and Data Protection was established in accordance with the relevant regulations.
In 2019, Marc Pfeffer additionally assumed the function of Corporate Secretary of the Board of Directors of Kuehne + Nagel International AG.
From 2008 to 2019, he was a member of the Board of Directors of Ruf Holding AG, Wollerau, Switzerland. In 2019, he joined the Board of Directors of Kühne Holding AG and he is a member of the Audit Committee. Marc Pfeffer stepped down from the Board of Directors of Kühne Holding AG effective December 31, 2022.
Marc Pfeffer has lived and worked as a lawyer in Switzerland for 16 years. From the end of 2006 until 2010 he was Head of International Legal Affairs and then until 2012 General Counsel of the publicly listed OC Oerlikon Corporation AG, Pfäffikon, Switzerland, a global market leader in PVD coatings, gearboxes and textile machinery.
From 2002 to 2006, he was with DB AG, Berlin, Germany, in the legal department and jointly responsible for the integration of the logistics subsidiary DB Schenker AG at the time. As General Councel at DB Netz AG, Frankfurt am Main, he had global responsibility for legal affairs and corporate governance as part of the management team from 2005. He left the DB Group 2006 as the planned IPO of DB Netz AG was called-off by the German Government.
Marc Pfeffer studied law and received his doctorate in law with distinction from the Saarland University, Saarbrücken, Germany. In 1998, he worked at the US Federal Trade Commission and lived in Washington, D.C., USA. He was a lecturer in the Business Administration Department of the Berlin Business School from 2004 until his move to Frankfurt.
Positions held within the Kuehne+Nagel Group
2014 – today: Group General Counsel of the Kuehne+Nagel Group
2019 – today: Corporate Secretary of the Board of Directors of Kuehne+Nagel
Jan 2023 - today: Chief Legal Officer, Executive Vice President Legal and Governance of the Group