Floating Contact Form Portlet
Back European Short Sea Network
Are you looking for an efficient and flexible way to ship your products across Europe? If so, have you ever thought about transporting your goods here also by sea freight? Short Sea shipping is the smart way to ship full container loads around Europe. Reach your customers quickly and affordably with Kuehne+Nagel's intermodal network.
Kuehne+Nagel's Short Sea service is a reliable multimodal solution that combines the best features of each mode of transport. You benefit from the economic efficiency of sea transport, as well as the speed of road and rail transport.
At Kuehne+Nagel, we make it simple for you to transport containers across Northern Europe and the Mediterranean by cargo ship or inland waterway in combination with truck or train. You can customise a highly flexible multimodal solution, based on our extended network that spans the full European region. We have partnerships with all major carriers, which ensures you can select a route and schedule that fits your exact needs. Make use of seaexplorer, our easy-to-use tool which simplifies your planning, letting you optimise your shipments for factors such as reliability, sustainability and time of arrival.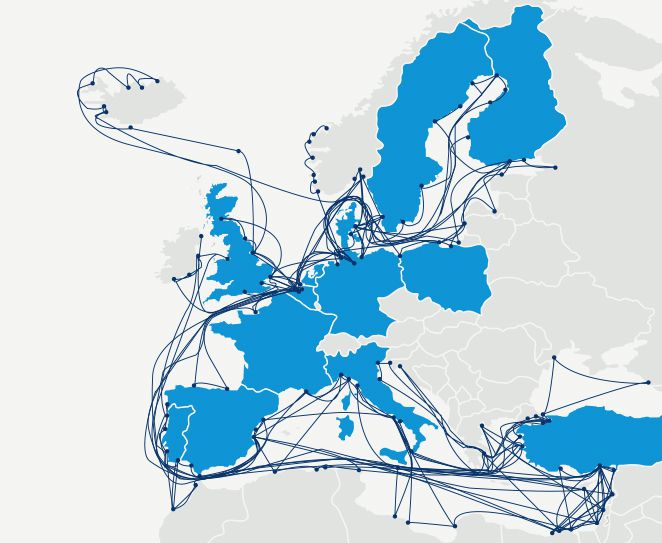 Shipping via the Short Sea Network is a sustainable alternative that reduces the carbon footprint of your supply chain. Shipping via sea is a greener alternative that causes up to 50% fewer emissions compared to road freight. You'll also have the option to make your shipment carbon neutral.
Short Sea shipping is an affordable way to reach your markets
Thanks to the higher volume of cargo that can be transported by sea in one go, you can save up to half the price compared to road transport. You'll also benefit from increased safety: sea containers are locked and sealed throughout their journey. This reduces the risk of theft, damage or contamination. When moving your cargo by sea, you avoid congestion, road blocks and border controls.
Your benefits include:
Cost efficient service with lock in rates for up to 12 months with fixed costs on a door-to-door basis
Door-to-door tracking and an interactive delivery planner via myKN
Route optimisation by choosing the right sea freight services for your cargo needs via seaexplorer
High security and safety standards both in ports and on board the vessels
Decreased environmental foot print of your transport