Floating Contact Form Portlet
Back Container Dashboard: real-time supply chain visibility in sea freight
From ship to shore, out of the port gate and back again – do my containers follow their transportation plan? The Container Dashboard provides enhanced real-time exception management.
Congestion and capacity constraints in recent years have made supply chain visibility at container level an absolute necessity to take preventive action before an order is disrupted.
What is the Container Dashboard?
The Container Dashboard is a real-time tracking and monitoring dashboard solution that allows you to proactively manage your containers. It predicts situations in real time and highlights containers that exceed a user-defined dwell time threshold. This allows for faster response and rescheduling of your shipments in case of route plan deviations or delays.
How does it work?
The underlying system integrates multiple different data sources into one single and consistent source to predict and visualise situations in real time.
The Container Dashboard is part of Kuehne+Nagel's global tracking solution myKN. It reduces the effort in identifying milestones and deviations. Your teams and ours can focus on the containers that need attention instead of manually searching for exceptions.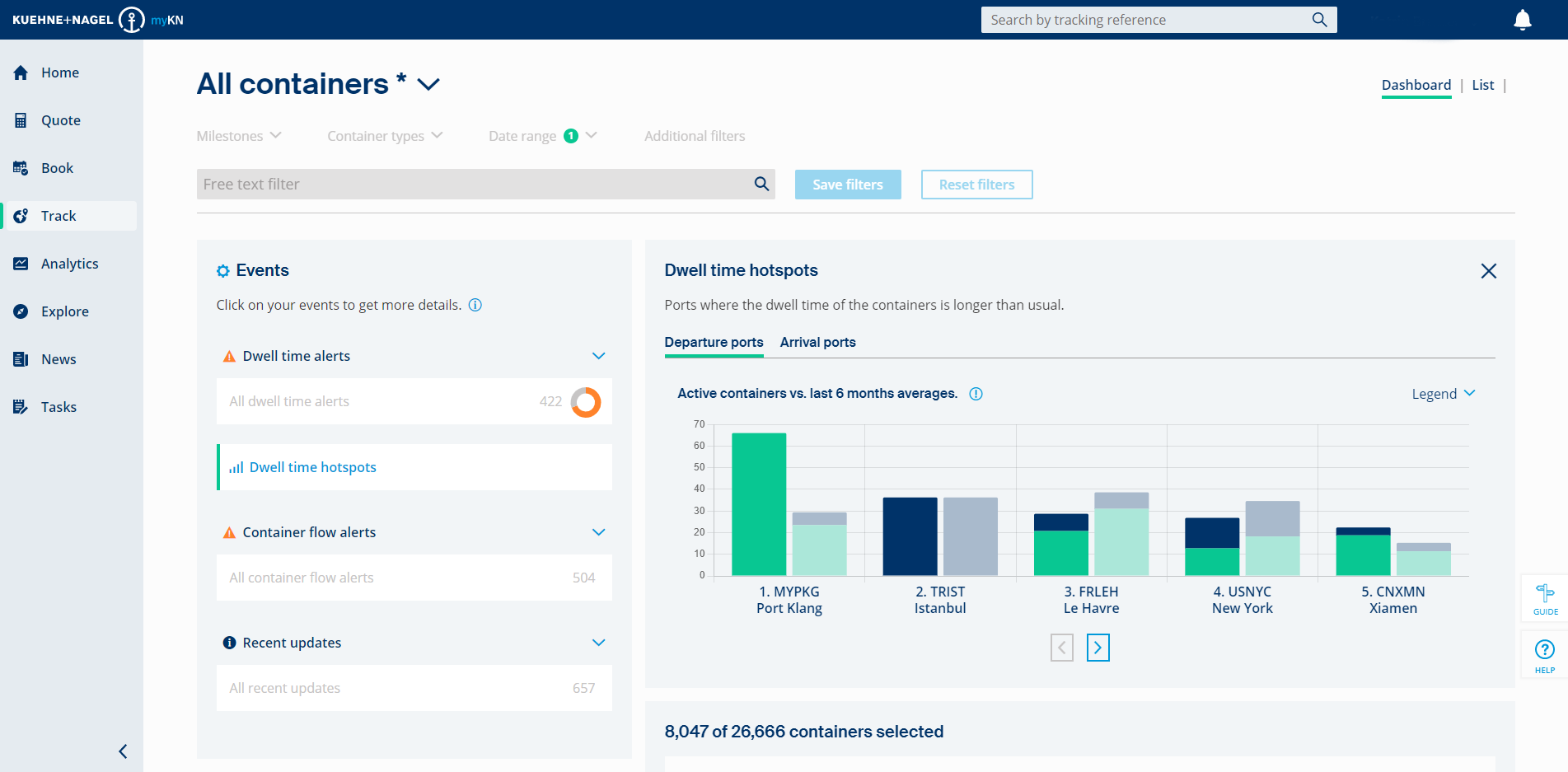 A new dashboard listing container flows* and dwell times notifies you of containers that have exceeded an individually-defined threshold for the difference between the current and the estimated time of arrival. Long-term analytics showing locations with the highest average dwell times allow you to reorganise routes that consistently exceed dwell times.
Predicted Time of Arrival (PTA)
The PTA by Kuehne+Nagel is an essential indicator of the Container Dashboard providing enhanced accuracy of information whenever a container's predicted time of arrival differs from the carrier's estimated time of arrival (ETA).
Using carrier data, terminal information, route maps, vessel trackers and data science, the container tableau identifies and highlights deviations to the initial carrier schedule.
Take advantage from
Reduced manual effort and increased productivity
Quick reactions through visualisation of exceptions
Reduced need for safety buffers on inventory through more accurate delivery predictions
Cost savings through avoidance of unnecessary charges for demurrage and detention as well as improved receiving and distribution planning
Customisation for trade lane, party, type of event or date range
Learn more about our online tracking solutions:
*IPI currently not covered