Floating Contact Form Portlet
Back Biofuel: An environmentally friendly alternative to fossil fuels
Biofuel, a Sustainable Marine Fuel (SMF), is an effective way to instantly reduce CO2e emissions in the sea freight industry. Learn more about this ascending alternative to fossil fuels. What are biofuels made from? How does it work?
In order to reach climate goals, the world is in urgent need to use clean, renewable energy sources. Container shipping emits an average of about 236 million tons of CO2e per year. This corresponds to about 22 per cent of global shipping emissions from seagoing vessels (Fourth IMO GHG Study 2020).
Biofuel is an effective way to reduce CO2e emissions in the sea freight industry instantly.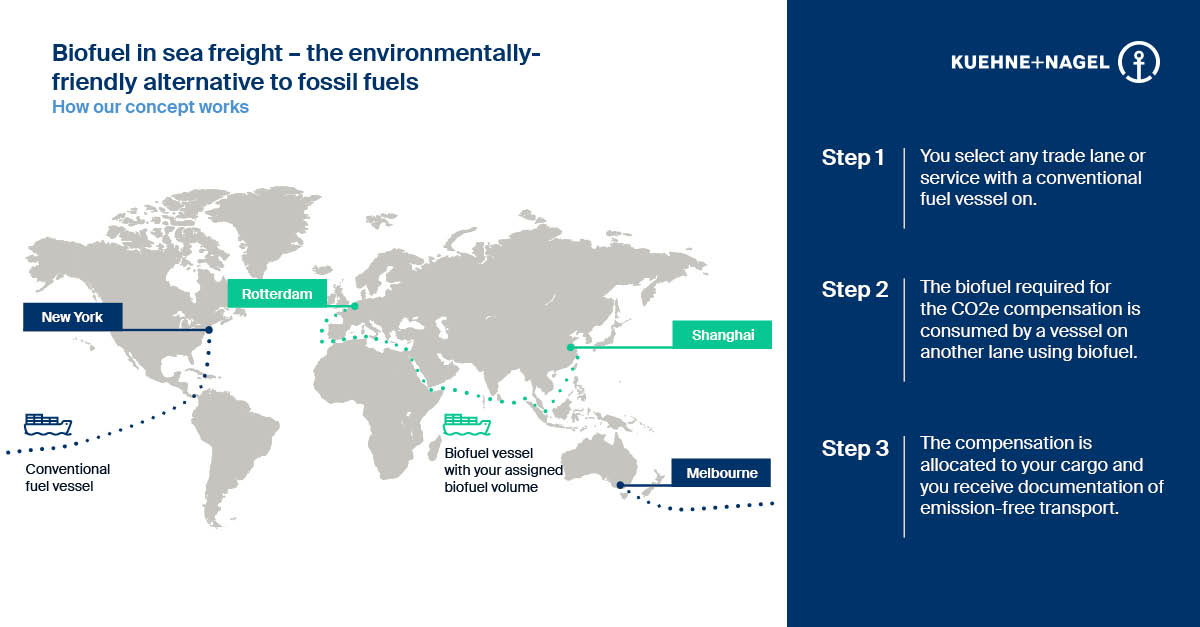 How does the Kuehne+Nagel biofuel concept work?
Kuehne+Nagel's biofuel concept is based on next generation biofuel as defined in the Renewable Energy Directive (RED) II Annex IX regulation
Kuehne+Nagel is allocating fully traceable biofuel contingents to your cargo
This so-called Mass-Balance-Concept is a practical approach allowing you to avoid CO2e emissions from your entire supply chain instantly. Mass balancing means consuming biofuels on some specific vessels and allocating CO2e savings to specific cargo volumes or products
Transparently priced: fixed or indexed
Kuehne+Nagel works with leading carriers, energy companies and trading houses to offer you high-quality solutions to reduce your Scope 3 emissions
Consumption in the container sector
ISO 14064 audited insetting process
Compliant with existing regulations, i.e. ISO14083, Fuel EU Maritime etc.
Most accurate calculation of transportation related emissions (TTW)
Via overcompensation, the fuel production / supply emissions (WTT) can be included, as well as a reflection of the fuel density

What are the advantages of using biofuel?
Your benefits:
Minimum 70 % savings in the life cycle assessment, but usually around 90 % can be achieved
Full fuel traceability assured through ISCC number
"No food for fuel": Next generation biofuel doesn't require farmland and it doesn't interfere with food cultivation
Documentation: Declaration provided for your dedicated consumption issued by acknowledged societies
Start sending your shipments with biofuel today.
Get in touch with us.