Floating Contact Form Portlet
Back Distributing happiness: Shipping fresh bananas across the Atlantic
Whether you're making healthy smoothies, creating your favourite dessert, or just eating them plain – bananas are widely loved in all forms. What does it take to ensure they reach you with their full flavour and freshness intact, so you can enjoy them, no matter the season?
Industry:
UK food service and retail
Solution:
Transporting temperature-controlled shipments from Costa Rica, Dominican Republic and Guatemala to the UK
---
Results:
Container load from different origins managed by Kuehne+Nagel under a unified system
Maintaining fruit quality through strict temperature control throughout the voyage
Mixing ocean carriers to minimise risk and delay
---
For over 40 years now, JN Fox & Sons has been a strong, family-run business involved in importing, distributing and even sourcing bananas for wholesalers and retailers across the UK. Fueled by the desire to support the success of their customers, their employees work with growers across the globe to import fresh, premium quality bananas all year long. Bananas need to be stored at a carefully-controlled temperature during transport. They are also time-sensitive – any delay in delivery severely impacts their freshness and shelf life. JN Fox & Sons has been partnering with Kuehne+Nagel for many years to ensure that the fruit's integrity is maintained during the long trans-Atlantic journey, and they reach the destination on time. Kristy Fox, their Head of Operations, elaborates, "Kuehne+Nagel helps us import bananas from different origins in South and Central America through an integrated system that minimises delays and confusion. This makes our supply chains more efficient and allows us to focus on growing our business."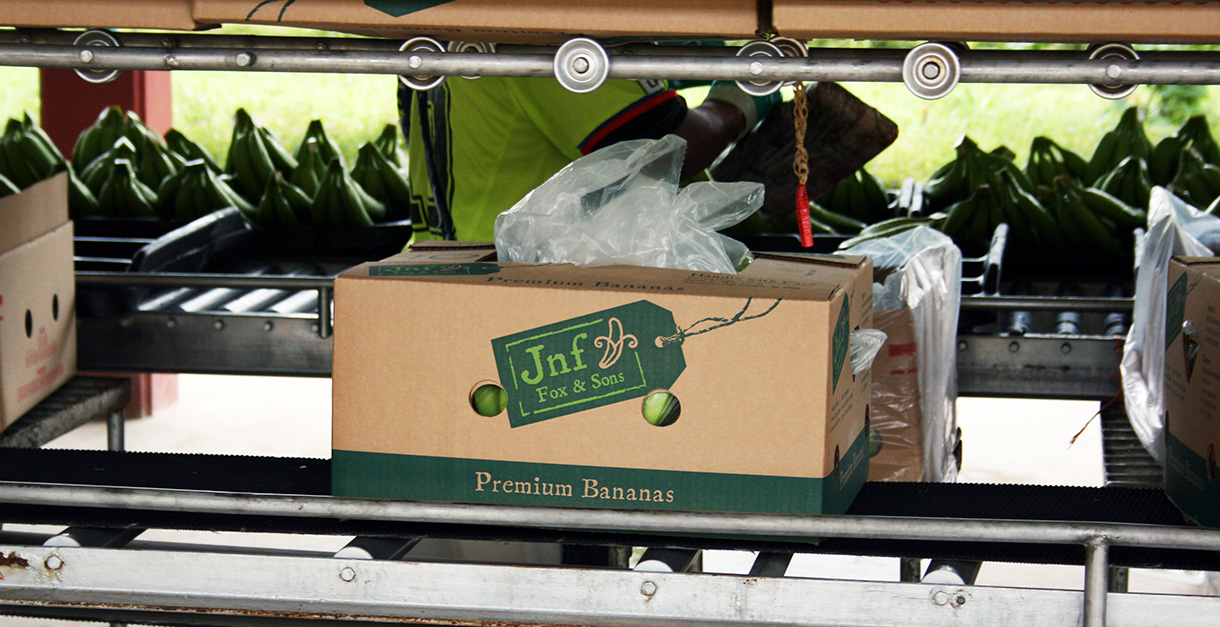 Our global Reefer Logistics teams help them ship the delicious fruit from Costa Rica, Guatemala and Dominican Republic to the UK by sea. Since bananas are exported from the region globally on a large scale, getting reefer containers is challenging – especially during North Atlantic peak seasons and due to a tight market situation. Kristy explains, "It's extremely time-consuming to coordinate with different carriers on the other side of the world, especially when there's a shortage of equipment or capacity and we need to ship quickly." To lower the risks of gap in communication, our local Kuehne+Nagel teams reach out to the carriers regularly and keep JN Fox & Sons updated about port schedules, bookings, or forecasts about possible disruptions. This transparency helps them adjust their plans and inform their customers of any issues ahead of time.
Trust goes a long way too
While dealing with multiple growers and carriers, trust between partners is fundamental to any supply chain activity. JN Fox & Sons know they can rely on Kuehne+Nagel's long shipping experience and knowledge to carefully transport their bananas. Though initially concerned about working with a big logistics company, today they find their worries put to rest. "What I appreciate about this collaboration is that people at Kuehne+Nagel really listen to our needs instead of just implementing a standard solution. Since we began working with them, we've been able to find container space at origin countries despite shortages. Even if there are delays, someone from their team reaches out to us to keep us up-to-date. Our partnership is founded on a true spirit of collaboration and care."