Floating Contact Form Portlet
Back How connectivity can improve your supply chain
Digital integration makes your supply chain more flexible and efficient, as well as providing new insights through real-time and risk-relevant data.
As the COVID-19 pandemic struck, supply chain and logistics operations were at the forefront of the response. Throughout the logistics sector, companies are using innovative solutions to overcome difficulties and maintain operations under challenging conditions. The pandemic acted as a catalyst to demonstrate the increased need for supply chain visibility through real-time and risk-relevant data.
Creating an efficient supply chain with data integration
Every business has its own mix of systems and applications for exchanging files and communicating with its partners. Logistics service providers maintain a tremendous landscape of applications involved in value creation, which need to operate not only within the organisation's borders but also with the IT systems and applications of shippers and carriers. EDI-based (Electronic Data Interchange) integration helps to improve the cost, speed and reliability of B2B networks, but is not as useful for business transformation. Although it is reliable, EDI is an ageing solution that is cumbersome to implement and maintain. APIs (Application Programming Interfaces), on the other hand, are generally faster to implement and significantly more cost-efficient than EDI solutions. However, they require programming. In addition, APIs make use of standard or RESTful architecture, which results in more flexible and scalable integration solutions based on the standard HTTP protocol.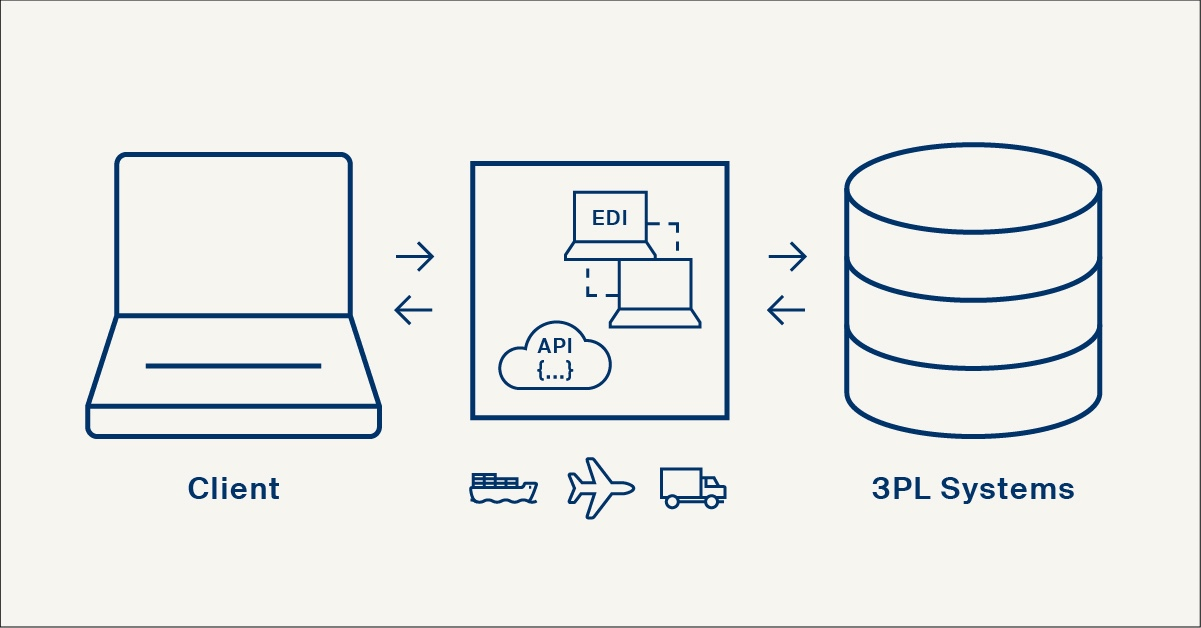 Engaging in the API economy is a key part of building a digital business. The ability to access data from anywhere at any time is becoming increasingly important in the age of digitalisation. Therefore, the openness and flexibility of APIs means they are indispensable for B2B integration. However, APIs are not a disruptor to data exchange; they are an extension to traditional forms of B2B integration.
Supply chain management remains a people's business
Today – for good reasons – the focus is on technology that involves automation and visibility in supply chains. However, supply chain management remains a people's business. Customers of traditional freight forwarders value providers with customised solutions, which requires meticulous optimisation of complex processes and deep customer knowledge. This characteristic presents advantages for long-established logistics companies, where solutions are developed based on the progressive use of technology and a thorough understanding of the customers' challenges, needs and goals. This understanding stems from years of experience in the logistics industry, engaging with shippers and understanding their workflows.
This hypothesis is supported by findings from a research project regarding data integration in the logistics industry. As part of a cooperation between Kuehne+Nagel and Fulda University of Applied Sciences (Department of Business), the results demonstrate the importance of qualified support during an integration project for shippers.
Seamless integration is a key to differentiation
Comprehensive forwarders will act as catalysts for new technologies and increasingly become specialists that offer advanced data-based solutions. Since players in the forwarding space can buy or build an equally good IT infrastructure, the key to differentiation lies in optimising holistically through the effective end-to-end integration of business processes and information. While seamless integration beyond the organisation's borders is not an easy task, companies that can achieve this will have a clear advantage.