Floating Contact Form Portlet
Back How digital solutions transform aerospace supply chains
Supply chain visibility is absolutely essential to the aerospace sector. How do strategic and fully integrated digital services lend transparency and control to your supply chain processes? Read on to find out.
In the aerospace industry, everything needs to move in perfect rhythm and harmony, like clockwork. Since all the operations and tasks are interdependent, even a single disruption in the supply chain can cause major ripple effects, like jeopardised work packages, grounded aircrafts, or increased deferred defect rate. This makes dynamic planning and round-the-clock transparency vital for shipments in transit.
From engines to hydraulic systems and standard line-replaceable units (LRUs) or big structural items, aircraft parts are extremely diverse, sensitive and valuable assets. Any delays in their delivery have major cost implications for your business. It is therefore important that their storage, handling and transport gets special attention. Kuehne+Nagel's aerospace solutions provide customers access to high-end digital tools that help them avoid setbacks and ensure a smooth material flow.
End-to-end visibility that empowers customers
In certain industries, standard track and trace functions are sufficient for monitoring goods and maintaining a healthy supply chain. It provides customers with information about the delivery dates and the transport progress of the shipment – helping them manage operations. In the aerospace sector, however, 360-degree visibility - down to part number (PNR) and serial number (SNR), is fundamental for a robust supply chain and proper material management. It benefits both the suppliers and their customers by capturing relevant data that promotes informed and efficient decision making.
Advanced digital solutions for complete control
Kuehne+Nagel's technological capabilities include a centralised repository, especially designed for our aerospace customers, that connects your MSN, repair shop, or production plant with relevant order numbers, part numbers and shipment references to ensure shipment visibility per entity and on PNR level. Having this connection between the order, part and shipment reference helps you to better manage your lead times.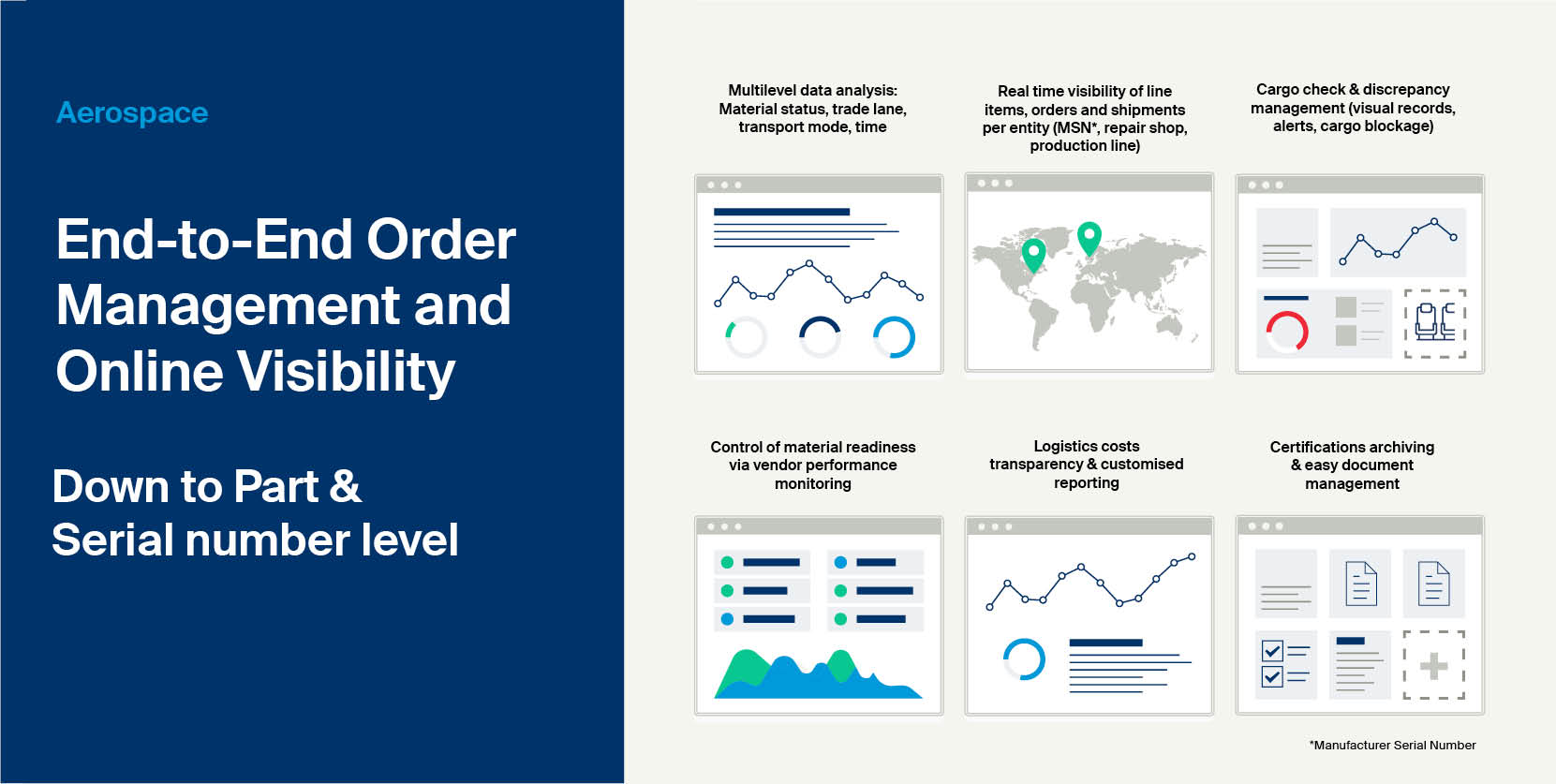 Safe and efficient transportation and management of aerospace parts is crucial for the growth of your business. Our digitised dashboards provide consolidated data on vendor performance and other key KPIs that you can select according to your needs. It helps you proactively plan maintenance and production, identify and minimise bottlenecks early, and optimise for costs.
Advanced technology ensures that you have access to accurate, real-time data, so you can establish a clear communication channel with your suppliers and customers. Not only does this transmission of this information foster trust between different contributors, it also helps you stay one step ahead at all times – ensuring a truly transparent and collaborative supply chain for your business.