Floating Contact Form Portlet
Back 10 Questions with: Yasmin Fraij, National Customs and Compliance manager
Customs is often riddled with myths and misconceptions, even in the Middle East! To clear up some of them, we spoke to Yasmin Fraij, National Customs and Compliance Manager at Kuehne+Nagel UAE. We explore her journey, discuss the daily realities of working in customs, and delve into the evolving customs landscape in her region.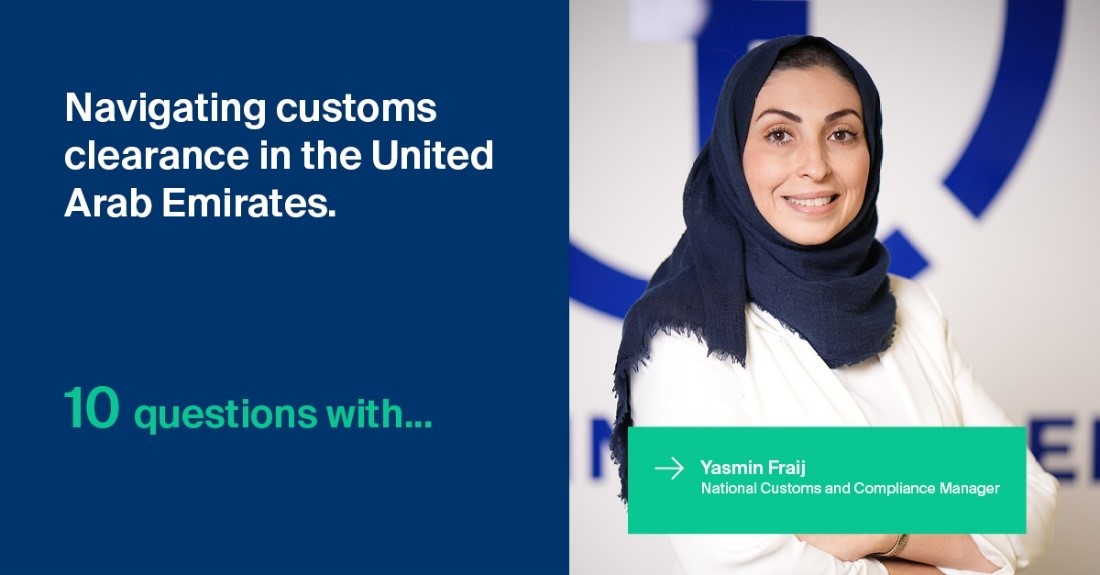 Tell us about yourself, how did you end up in your current role? What path did you take?
I began my logistics career in Jordan, then moved to Kuwait, and eventually ended up in the UAE where I explored logistics on different levels. However, customs has always been an important part of my professional journey. I would also like to add that during the first years of my career, I often found myself the only woman in meetings since gender diversity in logistics (and especially customs) was uncommon. This motivated me to prove myself as a female customs expert.
What does a typical day on the job look like?
There is no "typical day" in customs. Every day presents new challenges and keeps me on my toes, making it a rewarding role for those who enjoy thinking on their feet and working across a diverse spectrum of tasks. My role involves collaborating closely with our air, sea, and road logistics teams, ensuring that our services run smoothly and efficiently. Additionally, I engage with various governmental entities to navigate complex customs regulations, a task that requires precision and a keen understanding of compliance.
Is there a specific type of business that is more challenging to handle customs clearances for, and if yes, why?
Dealing with customs in the context of Project Logistics can be quite challenging, especially in terms of speed, fines, and duty exemptions. This demands a high level of coordination and efficiency. However, the process can become considerably smoother when you possess the necessary skills and a deep understanding of customer needs.
How does Kuehne+Nagel's global network assist you in your job?
Customs is typically a localised service, heavily dependent on local capabilities. Nevertheless, our global network empowers us to offer worldwide visibility and a single window concept. This ensures that our customers receive a smooth, consistent, and standardised service across different locations.
What is a myth about customs you wish to clarify?
Businesses often view customs processes as complex, manual, strict, and high-risk. We notice this especially among European businesses thinking of exporting to the Middle East. However, at Kuehne+Nagel, we possess the knowledge, licenses, policies, and technology to streamline and facilitate our customs clearance procedures, making our customers' experience seamless.
How do you stay updated on the latest changes in UAE customs regulations?
Official customs websites and regular communication and interaction with the customs department keep us updated with the latest information, which we make sure to share with our customers on a regular basis.
How has the customs landscape in the UAE evolved in recent years?
Customs in the UAE have rapidly evolved by introducing electronic clearance, pre-clearance, and e-services. They continually enhance their systems and collaborate closely with the local market to implement effective digital solutions.
What are the biggest challenges facing businesses in MEA when adapting to the constantly changing customs landscape?
A significant challenge for businesses in the MEA region is the absence of clear guidance on new changes and the lack of appropriate customs brokerage support capable of aligning customs requirements with customer needs. Consequently, this can result in risks such as fines or clearance delays.
What customs trends can we expect to emerge in the upcoming years?
We can already see increased digitalisation across customs processes, and it's expected to expand more in the next few years. This makes processes faster, but also reduces paper waste! That brings us to sustainability, which is also an emerging trend in customs. For example, the EU just initiated the first phase of the world's first carbon border tax CBAM. Thirdly, preferential trade agreements, and with it, advisory services, are also expected to grow.
"
We strive to not only keep up with emerging trends but also to proactively anticipate and adapt to them.
What's your favourite part of the job?
My favourite part of the job has to be working directly with customers and demonstrating how to adapt to the changes in regulations that can ease their businesses by ensuring a seamless supply chainI also enjoy implementing digital solutions, where I can witness a tangible improvement in the overall customs experience.