Floating Contact Form Portlet
Back Sea freight seaexplorer
Seaexplorer combines up-to-date service information with the sea logistics expertise of Kuehne+Nagel.
Finding the sea freight service that fits your needs can be a long and laborious task, taking up valuable time that you could better spend on your business. What if there was an easy-to-use tool which simplifies your planning, letting you optimise your shipments for factors such as reliability, sustainability and time of arrival?
At Kuehne+Nagel, we have created such a tool. Seaexplorer is an innovative platform that combines standard information on sea freight services and routings, with sophisticated comparative data to help you choose the best option for your business needs.
Whether you are looking for the fastest service to move your cargo from A to B, the service that has the best rating in terms of reliability or simply the service with the lowest CO2 emissions, seaexplorer can provide you the best options.
Discover seaexplorer! If you do not have a Kuehne+Nagel user account with access rights to seaexplorer, click here to request one. You want to test a demo first? Then click here.
Choosing an environmentally friendly transport solution is an important step towards sustainability in shipping. Big data and predictive analytics enable us to accurately measure and offset our carbon emissions, allowing us to offer you full visibility of your shipping-related emissions through seaexplorer. Use seaexplorer to actively reduce the carbon footprint of your supply chain and contribute to sustainable global maritime transportation.
Make faster, better informed decisions based on real-time vessel positions and port-to-port transit times.
Reach your markets faster by choosing routing options that optimise for speed.
Reduce your environmental impact by choosing ocean freight shipping options with lower emissions.
Optimise your inventory levels and lead times using accurate transit time information with average arrival delay.
Immediately identify incidents (severe weather conditions, vessel problems and port disruptions) that may affect your supply chains with our alert function.
The seaexplorer disruption indicator aggregates the worldwide waiting times of ships on the platform and thus enables conclusions on trends in the health of global supply chains.
You can now find our seaexplorer app showing the disruption indicator in the Apple App Store and the Google Play Store (access for registered customers).
News: You can get all the essential news for managing your supply chain in one place. The editorial team condenses and verifies what is happening around the world in sea freight. Using myKN or seaexplorer, you have access to SeaNews—and all the latest curated content.
Our partnership with team Malizia
Team Malizia is a yacht racing team. Together with them, Kuehne+Nagel is dedicated to a sustainable future and is contributing to the health of the oceans by reducing global CO2 emissions.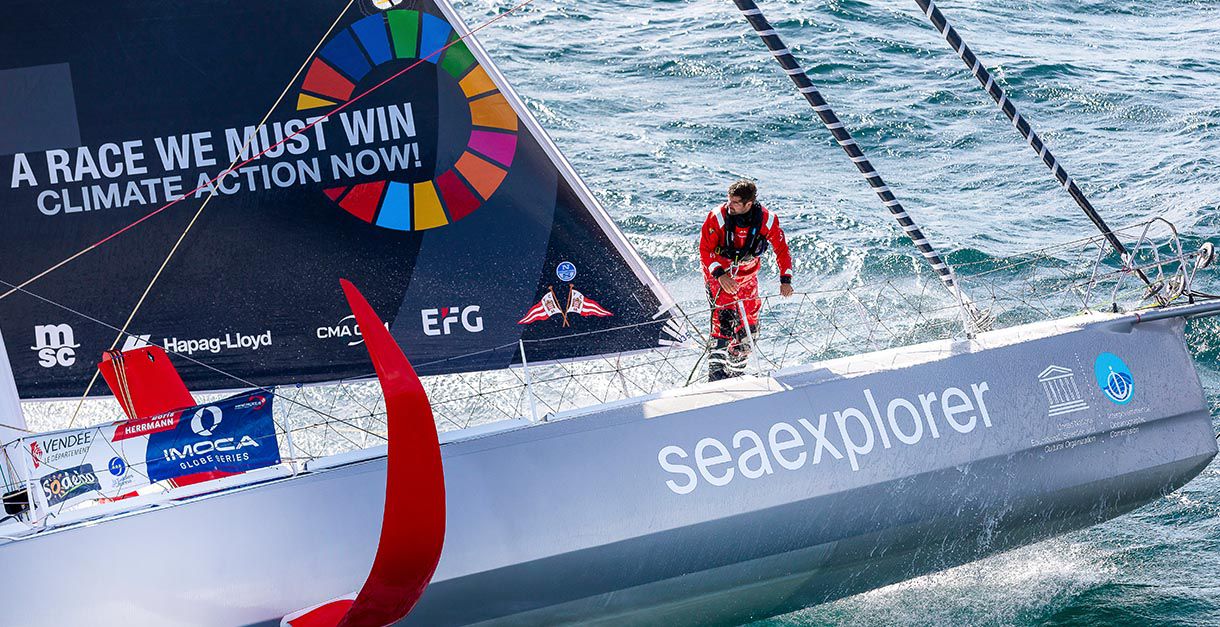 Seaexplorer visualises the carbon emissions of seagoing vessels worldwide, enabling customers to choose the service with the lowest CO2 emissions.
Team Malizia also measures the CO2 emissions in the ocean during the race. Thus, as a symbol of the partnership, the sailing yacht was christened "seaexplorer - Yacht Club de Monaco".